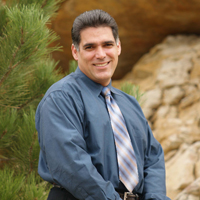 Fort Collins Dentist Dr. Missirlian Now Offering Mini Implants for Dentures
Dr. H. Arthur Missirlian, a northern Colorado affordable dentist, is now offering mini implants for denture wearing patients.
Dentist Dr. H. Arthur Missirlian of Fort Collins, Colorado is now offering mini implants to dentist patients that are in need of or already wear dentures. Mini dental implants are a revolutionary new technology in implantology. Dental surgery is generally something that some shy away from, but customers will be happy to know that this particular procedure only takes one visit with minimal invasive surgery. This is due to revolutionary new technology that allows dentists to shrink the components of a normal implant into a less invasive size.

Mini implants are placed into the jawbone, where the heads protrude from the gums to provide a solid foundation for securing dentures. Cutting of the gums maybe necessary, but the incisions usually are very small therefore healing afterwards is easy and quick. No sutures are required and only local anesthetic or mild sedation is used for patient comfort. The best part is that no additional procedural appointments need to be scheduled after the initial implant, making this procedure a great tool in the arsenal of an affordable dentist. The small size of the components (which are made of titanium) also allows for a wider range of patients to be fitted with implants that allow them to lead the kind of lifestyle they deserve.

It can be hard to find a local dentist who can perform this procedure in the northern Colorado area, which is why Fort Collins Dental Arts encourages any individuals who use dentures to look to mini implants as a more effective implantology alternative. They have even been hailed as one of the most significant advances in dental implants in the past thirty years.

In fact, because the initial procedure is so simple, mini implants are actually cheaper than regular implants, which is great news for individuals who have trouble finding an affordable dentist that is also a local dentist. Maintenance on dental implants is also relatively simple, which ultimately means less dental appointments and more savings for the patient.

Are you or someone you know interested in mini dental implants? Dr. H. Arthur Missirlian is a Colorado industry leader, specializing in everyday dental needs, dental surgery, and cosmetic industry. Not only does Dr. Missirlian stand out as a local dentist with over thirty years of experience, he is also an affordable dentist for individuals who need great care at low cost. For more information about becoming a patient of Dr. Missirlian, call the dentist and his office staff at 970-267-0933 or contact them on the web at http://www.fortcollinsdentalarts.com.
This content is published on behalf of the above source. Please contact them directly for any concern related to the above. 
This press release may contain forward-looking statements. Forward-looking statements describe future expectations, plans, results, or strategies (including product offerings, regulatory plans and business plans) and may change without notice. You are cautioned that such statements are subject to a multitude of risks and uncertainties that could cause future circumstances, events, or results to differ materially from those projected in the forward-looking statements, including the risks that actual results may differ materially from those projected in the forward-looking statements.